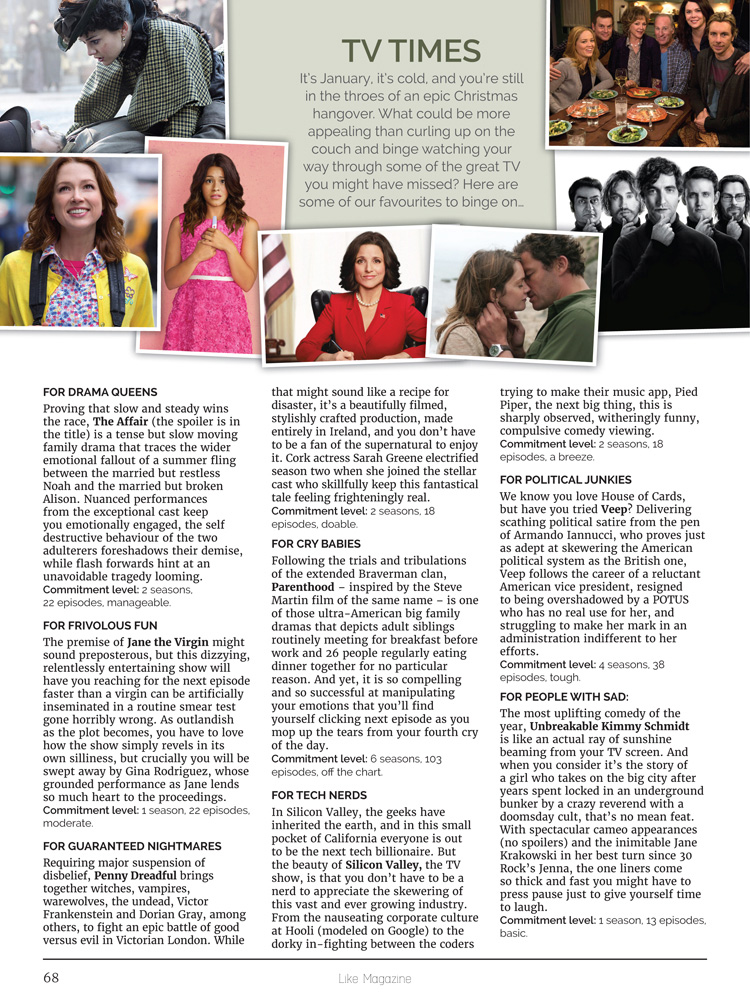 Culture feature, Like magazine, January 2016. Read below.
TV Times
It's January, it's cold, and you're still in the throes of an epic Christmas hangover. What could be more appealing than curling up on the couch and binge watching your way though some of the great TV you might have missed? Here's some of our favourites to binge on…
For drama queens: Proving that slow and steady wins the race, The Affair (the spoiler is in the title) is a tense but slow moving family drama that traces the wider emotional fallout of a summer fling between the married but restless Noah and the married but broken Alison. Nuanced performances from the exceptional cast keep you emotionally engaged, the self destructive behaviour of the two adulterers foreshadows their demise, while flash forwards hint at an unavoidable tragedy looming.
Commitment level: 2 seasons, 22 episodes, manageable.
For frivolous fun: The premise of Jane the Virgin might sound preposterous, but this dizzying, relentlessly entertaining show will have you reaching for the next episode faster than a virgin can be artificially inseminated in a routine smear test gone horribly wrong. As outlandish as the plot becomes, you have to love how the show simply revels in its own silliness, but crucially you will be swept away by Gina Rodriguez, whose grounded performance as Jane lends so much heart to the proceedings.
Commitment level: 1 season, 22 episodes, moderate.
For guaranteed nightmares: Requiring major suspension of disbelief, Penny Dreadful brings together witches, vampires, warewolves, the undead, Victor Frankenstein and Dorian Gray, among others, to fight an epic battle of good versus evil in Victorian London. While that might sound like a recipe for disaster, it's a beautifully filmed, stylishly crafted production, made entirely in Ireland, and you don't have to be a fan of the supernatural to enjoy it. Cork actress Sarah Greene electrified season two when she joined the stellar cast who skillfully keep this fantastical tale feeling frighteningly real.
Commitment level: 2 seasons, 18 episodes, doable.
For cry babies: Following the trials and tribulations of the extended Braverman clan, Parenthood – inspired by the Steve Martin film of the same name – is one of those ultra-American big family dramas that depicts adult siblings routinely meeting for breakfast before work and 26 people regularly eating dinner together for no particular reason. And yet, it is so compelling and so successful at manipulating your emotions that you'll find yourself clicking next episode as you mop up the tears from your fourth cry of the day.
Commitment level: 6 seasons, 103 episodes, off the chart.
For tech nerds: In Silicon Valley, the geeks have inherited the earth, and in this small pocket of California everyone is out to be the next tech billionaire. But the beauty of Silicon Valley, the TV show, is that you don't have to be a nerd to appreciate the skewering of this vast and ever growing industry. From the nauseating corporate culture at Hooli (modelled on Google) to the dorky in-fighting between the coders trying to make their music app, Pied Piper, the next big thing, this is sharply observed, witheringly funny, compulsive comedy viewing.
Commitment level: 2 seasons, 18 episodes, a breeze.
For political junkies: We know you love House of Cards, but have you tried Veep? Delivering scathing political satire from the pen of Armando Iannucci, who proves just as adept at skewering the American political system as the British one, Veep follows the career of a reluctant American vice president, resigned to being overshadowed by a POTUS who has no real use for her, and struggling to make her mark in an administration indifferent to her efforts.
Commitment level: 4 seasons, 38 episodes, tough.
For people with SAD: The most uplifting comedy of the year, Unbreakable Kimmy Schmidt is like an actual ray of sunshine beaming from your TV screen. And when you consider it's the story of a girl who takes on the big city after years spent locked in an underground bunker by a crazy reverend with a doomsday cult, that's no mean feat. With spectacular cameo appearances (no spoilers) and the inimitable Jane Krakowski in her best turn since 30 Rock's Jenna, the one liners so come thick and fast you might have to press pause just to give yourself time to laugh.
Commitment level: 1 season, 13 episodes, basic.